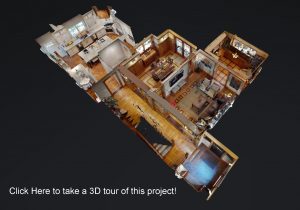 The hoarder's home built in 1912 was completely gutted including the framing in the interior and the floor systems so the staircases could be moved.  They then painstakingly installed a period correct interior into the building using quarter-sawn and riftsawn oak as well as many other hard to find materials. This was all after digging the foundation out to 7′ ceiling heights and new electrical, plumbing and mechanicals.
In the most recent phase of renovation, a garage was moved by crane to a new foundation, making room for a two-story addition featuring a large modern kitchen and powder room. No detail was spared including the inlayed floors and texture of the plaster walls in its reproduction. With amenities like induction cooktops, a dedicated wok burner and a four-foot prep sink, this cook's kitchen features at least two of everything, ensuring there is always capacity to make more to eat and pour more cocktails.
This home was a part of the 2021 Tour of Remodeled Homes and earned three awards for design and craftmanship. To learn more about these awards, Click Here!
To see more pictures and learn more about this whole home remodel, Click Here!