Do you ever wish you had just a little bit more space in your home? Would it be nice to have another place to gather with family and friends? Or a place for the kids to play without scattering the living room with toys? Sunroom additions are a great way to remedy all of these needs while also adding beauty, space, and value to your home.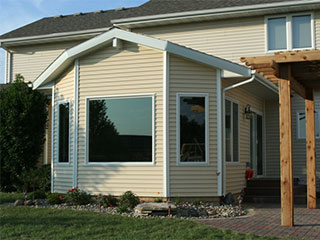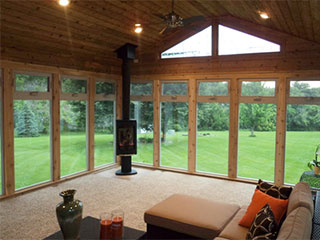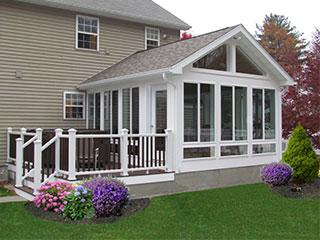 Sunrooms are perhaps one of the most cost-efficient remodeling or home addition projects. They not only provide a functional and enjoyable space but they can be installed in much less time and for a fraction of the price of a typical room addition. With their openness, they also allow for more visibility so you can enjoy the outdoors from the comfort of the indoors.
Many sunroom additions allow in enough sunlight to help heat your home and with the right windows it can also provide a cool breeze in the summer. As an added bonus, allowing more sunlight into your house can impact your health in a positive way and help with stress reduction.
When you hire Remodeling Contractors to help with your sunroom addition in Des Moines, you will get the assistance and service you need to plan the perfect sunroom for your home. From deciding on placement, what types of materials to use, and how to construct the room to make it energy efficient and budget-friendly, the team at Remodeling Contractors is ready to make it the space of your dreams.
While a contractor can answer all of your questions and provide more information about construction, you may want to start by doing some research of your own. There are quite a few options when it comes to sunroom additions from deciding what type of room to what size and type of windows to what it will be used for most often.
Where to Start
Perhaps the most important place to start when planning your sunroom addition is deciding how the room will be used. Everyone has a different vision for this additional space and its main use will highly effect the design and materials that will be used. If it is going to be an extension of an existing room, such as a kitchen or living room, then you may want to match the current flooring, walls, and exterior siding. However, if it's meant to be a separate space for a hot tub or to grow an indoor garden then the interior finishes will be more specific to these uses. The size and types of windows will vary as well as the types of utilities that need to be installed. Ventilation systems might be a necessity if it's a room that will get a lot of heat or be humid inside.
Some of the most common uses for a sunroom addition include:
TV room
Breakfast or dining nook
Workout room
Indoor patio
Greenhouse
Convertible guest room
Play room
Spa room
After deciding the use for your sunroom the next most important thing to consider is the location. Even the most well-designed and well-built sunroom will not be effective if it is in the wrong location. Your contractor will help you choose the best location based on amount of daily sunlight, average temperature throughout the day, and of course where it fits in the layout of your house and yard.
Most sunrooms are built without heating and cooling systems, thus being able to save on construction costs, so it is recommended that the room get at least 4 hours of sunlight during the middle of the day. This will maximize the amount of heat coming in to not only heat the room but also bring some heat into the rest of the house. Depending on your location, your climate will affect the sun and temperature so some types of sunrooms might be better suited for you.
Types of Sunroom Additions
One of the great things about a sun room addition or remodel is that there is no one single way to do it. At Remodeling Contractors, we will work with you to choose the best type of sunroom to fit your needs and your personal vision. Whether it is a space you want to use all year around or simply want to utilize it when the weather is enjoyable, or if it's a room that will get a lot of use by family members or one that will be strictly for plants and visual appeal we'll help you do it right.
The four types below are by far not a comprehensive list of sunroom configurations, but are the most popular choices. Each has its own use and will require different designs, plans and materials. The type you choose will be a factor when considering the budget for your project as well.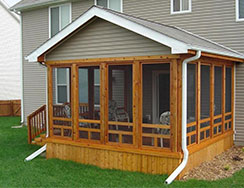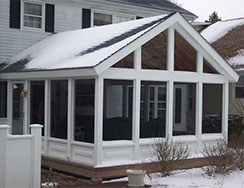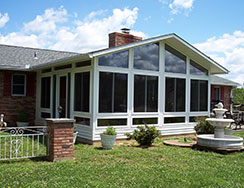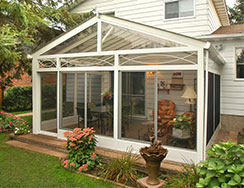 Screened-In Porch – A screen room or screened-in porch is your most basic sunroom addition. Its use is limited to seasons that allow you to be outdoors as the only thing separating you from nature is a screen. Those who choose this type of sunroom want to be as close to their natural surroundings as possible while avoiding annoying bugs or other wildlife.
A screen room is typically the most budget-friendly and affordable option since most of the walls will be made up of screens and other basic materials. You will want to choose materials that can stand up to the elements such as sealed wood for the walls and floors made of concrete or some sort of waterproof outdoor carpeting since nothing will keep the rain and other elements out. You'll also want to plan on installing a well-sealed door between the screen room and the rest of the house, especially to keep out the cold during the winter months.
Three Seasons Room – A three seasons room is exactly as its name implies, a room that is utilized only during three seasons-spring, summer, and fall. This sunroom addition is typically chosen by families who want a usable space where they can take pleasure in the outdoors without leaving the house, but do not need the space all year. This space is different from a screened in porch because it employs windows as a large portion of the walls allowing for visibility while still blocking out bugs, precipitation, and wind.
Adding on a three seasons room is also slightly pricier since you may choose to finish the inside more like an interior room with wood, laminate, or carpeted floors and sheet rocked or paneled walls. Typically, you can save money on a 3 seasons room by not extending the HVAC system into the addition and rely simply on solar power or open windows to heat and cool the space.
Four Seasons Room or All Seasons Room – Another obvious title, a Four Seasons Room is a sunroom addition that can be used as a living space all year-around. So what makes it a sunroom and not a traditional room addition? The two main differences are first- all three surrounding walls will be made up mostly of windows to increase visibility and second- the homes HVAC system will not be used to heat and/or cool but rather a window or wall-mounted unit will be installed to control interior temperatures.
If designed and built correctly an all seasons room should not need to make use of a heating or cooling unit since most of the heat should come from the sun and a ventilation system should help keep it cool. It is also important to use quality materials such insulated, double-pane windows to help regulate temperature and install insulation or thermal breaks to keep heat in or out as well as keeping the rest of the house insulated from the frequent change in temperatures.
Solarium – A solarium or greenhouse is typically chosen by those who want a 360-degree view of their surroundings or who want to maximize sun exposure for growing plants. These sunroom additions are made up of walls and a roof that are all glass. This can be costly, especially if you want glass that is double-paned or has a certain tint for optimal plant growth.
Solariums are not usually viewed as a living space where homeowners can house guests or watch TV for extended amounts of time. However, they do make a great place for a picnic or a morning retreat to enjoy your cup of coffee while enjoying a picturesque view.
No matter what your personal vision or dream for a sunroom addition, the team at Remodeling Contractors in Des Moines are ready to make it a reality. They will sit down and listen to your ideas and then help you design, plan, and pick the best materials to complete the project. Contact them today by visiting their website at remodelingdesmoines.com or giving them a call at 515-202-1244. Also be sure to view their Sunroom Addition portfolio to see images of projects they recently designed and completed. Find them on Facebook and Houzz as well!