When it comes to home improvements, bathroom remodeling projects are often found at the top of many wish lists, second only to kitchen remodels. While it is typically one of the smallest rooms in the house it tends to be one of the biggest remodeling projects. Obviously due to its many components and fixtures, not to mention the extra sealing, plumbing, and ventilation it requires.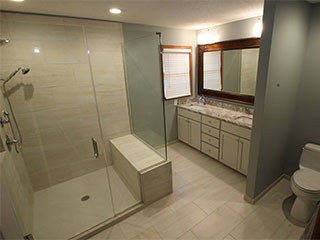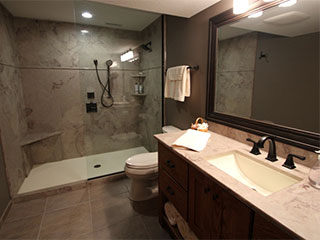 Trends in bathroom styles are constantly evolving and many homeowners are ready to not only update the room's design aesthetic, but also want to make it a more useful and functional space to fit their lifestyle. This can mean anything from a few simple upgrades to the fixtures and walls to a whole room renovation with new cabinets, countertops, fresh flooring and a re-designed shower.
At Remodeling Contractors, we want to help our clients transform the bathroom into the space of their dreams. We sit down with each of them to discuss personal preferences and visions for their bathroom, as well as provide details into the most current design trends. Our experienced contractors and designers are dedicated to using only the best-quality materials and providing excellent, hands-on service throughout the course of the project.
The following guide gives some insight into the five main sections of the bathroom that often get the most attention during a remodel. Whether it is one of these areas or all of them that need upgrading, a few basic changes can not only increase the bathroom's comfort but add to the value of the home as well. A Remodeling Specialist at Remodeling Contractors would be happy to discuss any or all of these areas to get the perfect bathroom remodel under way.
Shower/Tub
Perhaps the main focal point of most bathrooms, the shower, bathtub or shower/tub combination is not only a necessity in at least one bathroom in the house but can also be a reflection of the owner's personal style. For some a shower should be quick and simple, so a basic tiled corner with a drain and door is sufficient. Others prefer a shower along with a separate tub for the luxury of a long soak and maybe some massaging jets.
Showers have come a long way from the simple glass door unit with one shower head or the porcelain tub with a single shower head and plastic curtain. When choosing a shower and bathtub now the possibilities are virtually endless. The choice will largely depend on budget, space, and how much renovating will need to be done. One should begin by asking themselves, "What is the best type of shower?" or "What is the best tub for my home?". This is usually answered by what you are trying to accomplish with your space. Below are just a few of the options:
Bathtubs:
Porcelain with a shower
Whirlpool
Infinity tub
Free-standing
Claw foot
Copper
Showers:
Glass tile
Ceramic tile
L-shaped with no door
Curved curtain rod
Dual shower heads
Rain shower heads
Body sprayers
Built in shelves and benches
A contractor or design expert can provide valuable insight into the type of shower or tub that will work best in a bathroom and whether a personal choice is even a possibility with the size or location of the plumbing. When considering removing a bathtub during a remodel one should remember to keep at least one bathroom in the house with a bathtub.
Sink
The sink is another important focal point of the bathroom and also a feature that has evolved significantly in terms of design. It is one of the most replaced elements in a bathroom remodeling project as individuals try to open up the space, increase storage or change the style of the room.
Our design staff has the knowledge to help guide you through the decision making process by showing you the options available at our multiple vendors and suppliers.  Other things to consider are the type of faucet that will be used, whether the sink should stand alone or be integrated into a cabinet, and who will be using the sink. Some styles are not as functional and easy to use, especially for kids. It is also important that the sink be durable and stain resistant.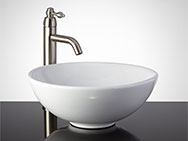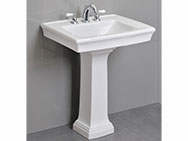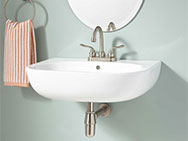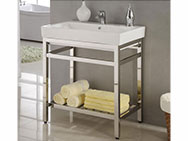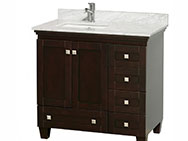 A few sink options include:
Vessel: Sits on top of a counter. Generally bowl shaped and comes in a variety of materials from porcelain to glass, copper or stainless steel. Sits higher and is a popular bathroom trend.
Pedestal: Great for saving floor space as the base is narrow while the basin is wide and deep. Does not include any storage underneath. Provides a unique style.
Wall-mounted: The best option for remodels that want to save floor space. Completely supported by the wall with no need for legs or a countertop. Does allow pipes to show, however they can be easily covered.
Console table: A hybrid between a wall mounted sink and vanity. This type saves space but with some storage underneath. Sink typically sits atop a table or four legs with one shelf.
Vanity: Sink is set into a countertop with ample storage underneath. Pipes are not visible and cabinets come in a variety of sizes. Sinks can be installed as a solid-surface with no edges or seams visible between the sink and countertop or as a drop-in in which a rim around the sink sits on top of the countertop and can easily be added to existing surfaces.
Lighting
An important aspect that often gets overlooked during a bathroom remodel is the lighting. When considering a remodel, the lighting of each area of the room should be evaluated. Small bathrooms can be made to look larger with the right type of illumination while large bathrooms will need several types of lighting in order for each space to be functional. While it is essential to fit lighting into the design aesthetic, it is also necessary to provide the proper light for tending to all of life's day-to-day functions.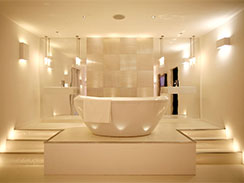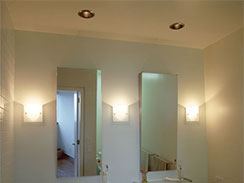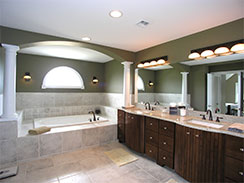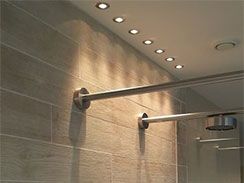 Often referred to as "task lighting", a good place to begin when lighting the bathroom is considering the various spaces where different jobs or tasks will be done. Each of these spaces – the vanity or sink, shower and/or tub, and the toilet – should have their own focused lighting. For a larger bathroom, especially one that will be used often or will be used as a place of relaxation, some basic ambient lighting to illuminate the whole space may be necessary.
Consider the following types of lighting for these spaces:
Vanity or sink: Wall-mounted fixtures on both sides of a mirror. The idea is to reduce shadows on the face while completing tasks like shaving, applying make-up or styling hair. Strip lighting on or above the mirror are also options.
Toilet: Simple recessed canister lights are enough to light this space that is often set off from the rest of the room with a wall, half-wall, or cabinet.
Shower or bathtub: Use lights that are designed to be use in wet, humid areas. Recessed lighting works best and should be bright enough to complete shaving and cleaning tasks. To create drama or a relaxing aura above a whirlpool tub consider installing dimming switches.
Whole room: A simple ceiling light installed in the center of the room should do the trick. If decorating in a certain theme, a chandelier, sconce, or pendant light will add to the design.
Countertops
Countertops are another extremely important fixture in any bathroom. They not only need to be stylish and fit in with the design of the room, but they also need to be durable, resilient, and functional. The maintenance of these surfaces needs to be simple as they will be exposed to water, soap, and residue from cosmetics and hair products. One should also consider how much work space is required for completing morning and evening bathroom routines.
A bathroom remodeling contractor like Remodeling Contractors can provide expertise into maximizing countertop space or reconfiguring counters and cabinets to increase storage and meet personal needs. He can also recommend a surface material that fits with needs and design visions.
There are lots of options for practical and beautiful countertops, but which countertop is best for your bathroom? Each has their own level of maintenance from hardly any to needing to be sealed periodically. Some are more porous and will stain or scratch more easily. And of course some will fit into a personal budget better than others.
Granite
Cultured Marble
Limestone
Quartzite
Solid-surfacing
Laminate
Ceramic tile
Porcelain tile
Wood
Glass
Concrete
Flooring
When choosing flooring for a bathroom remodel, individuals are typically less concerned about drawing attention to the floor and more focused on how well it will stand up to moisture, the required maintenance, and how it feels on bare feet. Bathroom floors can really take a beating with wet feet, cosmetic residue, and the frequent cleaning that is required for hygienic purposes.
Tile options make it simple to customize a bathroom by creating designs with different colors, sizes, and textures. Various areas of the room can also be off-set by creating a "rug" with the tile, especially in front of toilets or vanities. And walls and showers can also be incorporated directly into the floor with matching or continued tile designs.
While tile is typically the material of choice for bathroom floors there are numerous options available now that will make the bathroom attractive and stylish. Some of these options may require more maintenance than others, namely resealing against moisture damage or the occasional replacement of grout. These other options include:
Wood
Luxury Vinyl Tile
Vinyl
Stone
Linoleum
Cork
Another popular option currently being installed in many bathrooms is radiant heat. Considered a luxury to most, radiant flooring keeps the bathroom floor warm for bare feet especially on cold mornings or after stepping out of the shower. However luxurious this may be, it is also functional in its drying abilities, making wet floors dry more quickly in order to decrease slipping.
There are two types of radiant floor heat. Hydronic which utilizes a hot water heater to warm the water that is forced through rubber tubing underneath the floor. The second form, electric, uses an electric panel with heat-resistant wires underneath the floor. While both provide the heat one desires, the electric is more economical and simpler to install. However, both will require removing existing floors so may not be an option if the remodeling plan does not include new flooring.
This is just a glimpse into the all of the possibilities that could be changed, modified, and updated when it comes to remodeling a home's bathroom. Whether the remodeling project includes only replacing one of these features or it involves tearing out the entire bathroom and rebuilding from the floors up, Remodeling Contractors is ready to take on your bathroom vision.
From the initial planning to providing suggestions on countertops and flooring, all the way to the end of the project,  the team will transform the bathroom into the space you always dreamed of. Contact them today at 515-202-1244 and visit their bathroom portfolio for ideas and photos of spaces they've designed and renewed. Do not miss the Remodeling Contractors Facebook and Houzz pages for even more ideas!