Floor to Ceiling: Basement Finishing and Remodeling Basics
A basement finishing project can be a very overwhelming and complicated task. Taking a space in your home that was once unused or only used for storage or shelter and turning it into a usable, and maybe even enjoyable, space can start out as a simple idea for a few walls and some carpet. However, it can quickly turn into a large remodeling project that includes plans for a bar, maybe a couple of bedrooms, or even a media room.
Where to begin?
Like any home remodeling project, the first thing you want to do when considering converting your basement into a more functioning area is to decide what types of activities you will be doing in the space. Will it be for recreation purposes – playing pool, watching movies, playing video games – or will it be for entertaining guests? Do you need a more practical space such as a home office or more bedrooms to accommodate a growing family? Will you be spending a significant enough amount of time in your basement that you'll need a bathroom as well?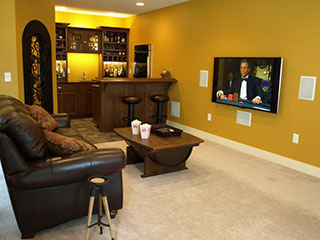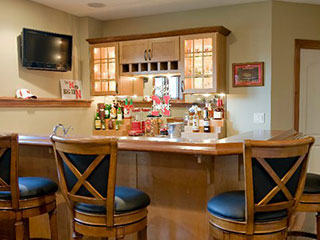 Once you have determined the direction you want to take your basement remodeling plan, there are several other important, and more technical, factors that also need to be considered. Of course, there is always the big question, "How much do basement remodels cost?" Often we are asked about square footage pricing but with every custom project comes a custom price. The basics are pretty easy but ultimately scope of work, square footage and selected products determine the final costs. That is most easily answered after an initial consultation.
Another important consideration with basements is whether or not it stays dry. Make sure you, or the basement contractor you hire, is aware of any cracks in the walls or floor as well as checking the grading outside to make sure unwanted moisture will not make its way in. While these problems can be remedied they can be costly, but will ultimately protect any improvements you make from future damage.
Finally, before starting any building endeavor it is important to look into your neighborhood or city's building codes. Areas with utilities such as electrical boxes, hot water heaters and HVAC units all need to stay in easy-to-access locations. If you are adding any plumbing, electrical wiring or bedroom window they may need to be inspected for proper installation and meeting of safety codes.
All of the steps discussed above will be covered from start to finish if you hire a professional contractor, especially one who specializes in basement remodeling and finishing. If you're ready to take on your basement project, some of the basic floor to ceiling options below might help get you started.
Flooring
When choosing a flooring type for your new basement space the top two considerations are – What is it going to be used for? And how much traffic is it going to get? You can pretty much use nearly the same type of flooring you would use anywhere else in the house; it may just need to be installed a bit differently since it will be on concrete instead of wood subfloors. And depending on moisture and humidity levels you may have to consider something that will stand up to these elements.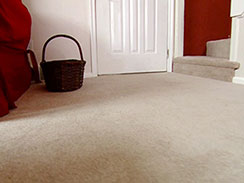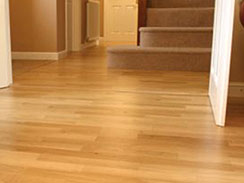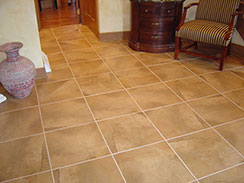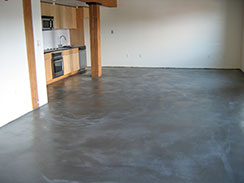 Carpet – Carpet is a great basement option especially for bedrooms and rooms that will be used for lounging and relaxing. It not only provides a soft surface for your basement floor but it also provides warmth in an area that is typically cooler in temperatures. Some disadvantages to choosing carpet are that it is not a good option if you have water problems as wet carpet can soon turn mildew and moldy. It can also bubble up in places if your concrete floors are uneven prior to installation. Most basement carpets require some sort of padding to be glued in place before the carpet is placed and stretched over the top.
Laminate – Laminate flooring is a very popular option for basement remodels since it is extremely sturdy and wears well even when installed on top of concrete. It is typically more expensive than carpet but comes in a variety of colors, textures, and finishes so it can provide a unique look to the most individualized space. Laminate floors are usually not attached to their subflooring and float over the concrete to allow for expansion and movement at its seams. Floors must be level and smooth before installing any type of laminate or engineered flooring.
Ceramic or Vinyl Tile – Tile is the most versatile option for basement flooring. It is typically glued directly to the concrete floor and can even be installed in places that might be susceptible to water since it can be easily mopped. Leveling and smoothing of the floor is not necessary with ceramic or vinyl tile and if it should become damaged it is simple to replace one square of tile without having to replace the entire floor.
Concrete – A final flooring option that is gaining more popularity in basement remodels is finished concrete. This is definitely the most durable option and while it does not provide the warmth of carpet or laminate it does give basements a unique and almost industrial look. Area rugs can be used in areas that require a warmer feel and will also add to the overall décor of the basement.
There are a couple of options when finishing concrete including concrete paint which is the least expensive option but can quickly show wear in high traffic areas. Concrete stains are a great choice for unfinished basement floors that are still porous so the color can soak in. The most durable option, while also being the most expensive, is an epoxy coating. This sealant is slip-resistant and can be colored or swirled with other colors to provide a shiny, unique finish.
Walls
Just like flooring there are lots of options when it comes to finishing the walls in your remodeled basement. Again, it will depend on the look and feel you are trying to accomplish as to what type of wall material you choose. Below are just a few of the options and your contractor will be able to provide you even more options and recommendations.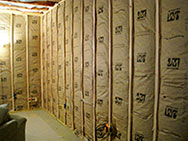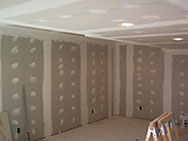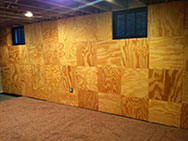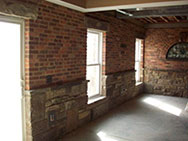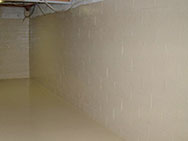 Insulation – No matter what type of finished walls you decide to install; it is important to start with a good insulation. Not only for warmth but also to provide a barrier or absorption for sound. This can be especially critical if you are planning bedrooms or a media room for music and movies. Fiberglass and blown-in insulation are the simplest and most cost efficient but do not provide any protection against moisture. Spray foam insulation provides the highest levels of insulation along with the benefit of being a moisture barrier and can also help to keep pests out of the home.
Dry wall – Dry wall is, of course, the most adaptable option for finishing your basement walls. It is easy to hang, inexpensive and can be finished with any color of paint or wallpaper you choose. When installing dry wall, it is important to have a moisture barrier since dry wall will fall apart if it gets wet. Installing dry wall does require starting with wood wall supports to attach it to, so you will lose a few inches of space by going this route.
Natural brick – Some basements are fabricated with brick and mortar as opposed to the more common concrete block. As long as this brick foundation is not falling apart or in rough shape, it can provide a modern style to a space used for entertaining or recreation.
Painted concrete – If your basement space wants to have a more industrial feel you can simply leave the concrete blocks and paint them in your desired color. White is a popular option as it brightens the space while still covering blemishes or stains.
Ceilings
The ceiling might be the most noticeable aspect of a finished basement as it can make the space feel larger or smaller and can also affect the overall design and décor. Not only does the ceiling need to be attractive it also needs to be functional. Part of choosing a ceiling finish is deciding if you want to cover and hide the duct work, joists, and wiring or leave it exposed. Your remodeling contractor will again be able to advise how to best cover things without making the ceiling feel shorter as well as give insights into the most current trends in ceiling finishes.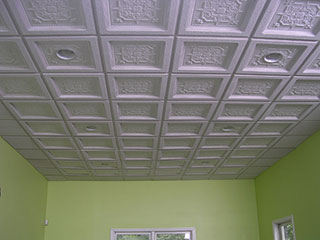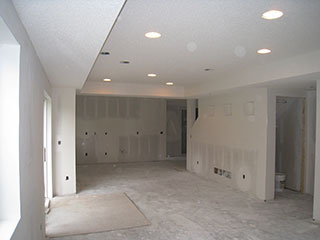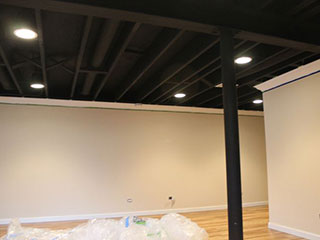 Drop ceilings – A drop ceiling system is the most common way to finish a remodeled basement ceiling. Some are afraid this option will make their basement look like an office, but there are numerous options available now that give drop ceilings a more modern look. Different textures, varying colors, almost anything you want to make the space your own. With its suspended grid system, you'll be able to hide wiring and duct work while still having access to these things in case of needed maintenance.
Dry wall – Another very popular ceiling option, dry wall allows you to cover up utilities in the ceiling, however you will limit your access to them. An advantage of dry wall is that you can keep your ceiling higher because it doesn't require a hanging grid system. Although, it will be necessary to create soffits around any piping or duct work that is lower than the ceiling joists.
Paint – When it comes to modern trends, painting your basement ceiling is one of the most popular and cost-efficient options right now. With the use of a paint sprayer you can have a basement ceiling painted in a matter of just a few hours. It is recommended to use dark colors in a flat sheen as these make the most seamless transition in disguising pipes and duct work. You can easily paint everything in the ceiling, however any metal ducts should be primed first to keep the paint from chipping or peeling.
Get started
So now that you have the floor to ceiling basics to get you started on your basement remodeling project, it's time to start doing some more research and making some decisions. Stop in or call Remodeling Contractors' design center to get started on your project.
The Team at Remodeling Contractors can provide a unique vision for making your lower level the space of your dreams. He has a hands on approach and uses only the best quality materials. For everything from the ceiling to the floor, lighting, doors, and countertops, contact Remodeling Contractors, one of the finest basement contractors in Des Moines at https://remodelingdesmoines.com
Lastly check out the basement portfolio page for projects in the Des Moines area which Remodeling Contractors has completed. Also visit Remodeling Contractors on Facebook and Houzz.