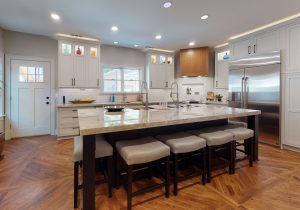 Des Moines, Iowa (September 19th, 2021) — The Remodeler's Council and Home Builders Association of the Greater Des Moines awarded Remodeling Contractors 3 Awards during the 2021 Tour of Remodeled Homes this weekend.
By a vote from other Remodelers and VIPs on the Tour of Remodeled Homes, Remodeling Contractors won awards for Most Dramatic Change, Best Reuse of Materials and The B.E.A.M Award. The members of the Remodelers Council picked their favorites after a special tour of the homes to be presented during the annual Tour of Remodeled Homes. Remodeling Contractors were honored with 3 out of the 5 disciplines judged.
The home located at 2835 High Street in Des Moines, is owned by Scott Spetman a Remodeling Specialist with Remodeling Contractors. The hoarder's home built in 1912 was completely gutted including the framing in the interior and the floor systems so the staircases could be moved.  They then painstakingly installed a period correct interior into the building using quarter-sawn and riftsawn oak as well as many other hard to find materials. This was all after digging the foundation out to 7′ ceiling heights and new electrical, plumbing and mechanicals. Finally, a garage was moved by crane to a new location and the team built a two story addition with a large cooks kitchen, all in keeping the period correct motif. No detail was spared including the inlayed floors and texture of the plaster walls in its reproduction.
When asked about the awards for his home, Spetman responded, "I am really happy that everyone appreciates what we did here. I built it the way I wanted it, with little compromise and I am glad everyone could see my vision for this project!"
Each award is based on a different set of criteria created by the Remodelers Council and given to each participant in the Tour of Remodeled Homes that displays the best adaptation to that criteria for that year. With the shear volume of work performed along with it's level of difficulty the award for Most Dramatic Change was a natural fit. Along with the reuse of the original garage, the High Street project also was able to reuse two interior doors to build a one of a kind pocket door and recycle a collection of antique books for the library. Lastly, the B.E.A.M Award or Best Engagement of Associate Members Award goes to the firm that uses the most Trade Partners and Suppliers that are part of the Remodelers Council during the remodel. This project had an outstanding 31 member partners who helped with the job.
To see more about this home Click Here!