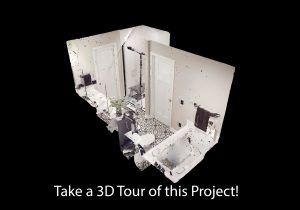 Embark on a journey of timeless elegance with our classical bathroom remodel, orchestrated by the expertise of Remodeling Contractors. Central to this opulent transformation are our Signature cabinets, meticulously designed with a pull-out tower, adorned in a dignified Onyx finish. These cabinets exude sophistication, topped with the grandeur of a Marble slab that gracefully embrace the space.
A sanctuary of indulgence awaits, with a capacious soaking tub positioned on one side, inviting you to unwind in its luxurious depths. On the opposite end, a cultured marble shower stands as a testament to both craftsmanship and comfort. The ambiance is enlivened by a symphony of patterned black and white tiles, engaging in a delightful dance with the cabinets, infusing the space with whimsical charm.
Step into this reimagined haven, where classical aesthetics merge seamlessly with modern functionality, embodying a bathroom that transcends eras.
See more details of this Bathroom renovation!