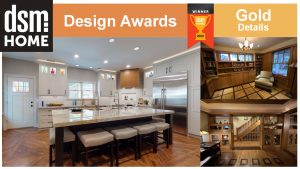 Des Moines, Iowa (March 8th, 2022) — dsm Magazine's 2nd annual design awards yield honors for "Details" of Remodeling Contractors' addition.
The dsm Home Design Awards are an annual feature of dsm magazine, which has long covered Greater Des Moines' most luxurious, creative and intriguing homes and gardens. 9 judges were selected to choose their favorite projects from traditional restorations to modern kitchen layouts.
Remodeling Contractors took top honors in two areas within the detail category that they were judged. The project submitted was a large scale remodel involving the complete demolition of the interior of a nearly 100 year old home. Within that project the team also built a two story addition on the home that housed the new kitchen for the home. Based on the judging, this project stood out in both its use of lighting and its unique installation of hardwood flooring.
The flooring which was inlaid with intricate patterns of oak and wenge used a different pattern in each of the homes many rooms. It adds a feeling of warmth and continuity throughout the home, while creating interest within the patterns created.
The lighting was designed around two aesthetics, first is the  recessed lighting, which is cleverly hidden throughout the home in the ceilings and cabinets. These are paired with the more traditional chandeliers and sconces creating a warmth that you would find in an old home. Both of these are tied together through a computer controller that allows both the new and the old to work in tandem without the need to manually set dimmers and switches.
To see pictures and to read more about the design of this award winning project Click Here!
dsm magazine is the elegant and essential journal of local arts and culture. Each issue celebrates the breadth of culture in Central Iowa—from fashion to philanthropy, from dining and décor to lifestyle and social issues. For more information visit https://dsmmagazine.com/