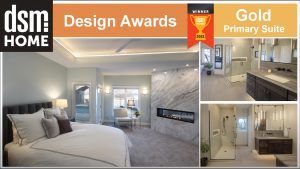 Des Moines, Iowa (March 9th, 2021) — dsm Magazine's inaugural design awards included top honors for Remodeling Contractors in the category of Primary Suite.
Remodeling Contractors was chosen for this honor, by a panel of judges from the fields of art, architecture, editorial, education and design in a blind judging process. Local builders, remodelers, designers and architects submitted 140 entries to compete in 21 categories. In total 153 rooms, homes and outdoor spaces were reviewed with the winners announced on Tuesday. Remodeling Contractors was the winner with an entry in the Primary Suite category for a Master bedroom and bathroom they completed last spring.
"It was a total team effort." claimed Zak Fleming, one of the owners of Remodeling Contractors, " Donna and Scott designed the space with the help of the homeowners, and the production team made the dream come true with Jason Hoffman leading the project."
To see pictures and to read more about the design of this award winning project Click Here!
dsm magazine is the elegant and essential journal of local arts and culture. Each issue celebrates the breadth of culture in Central Iowa—from fashion to philanthropy, from dining and décor to lifestyle and social issues. For more information visit https://dsmmagazine.com/