Hobbies
Jason is married with two kids. He enjoys coaching his son's baseball team, collecting vinyl records, and rebuilding old audio equipment.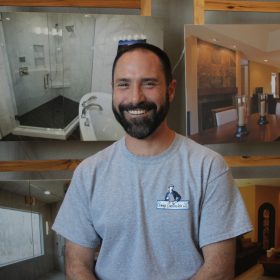 Jason Hoffman
Jason Hoffman was born and raised in Indianola, IA. Growing up he had big dreams to be a fighter pilot but quickly learned that the photography hobby he picked up as a child would make a better career choice. Upon graduating high school, Jason attended DMACC and earned his degree in photography. After graduation he accepted a position at Sticks Inc. as a photographer and worked there for many years before joining the Fleming Construction team in 2011.
Today
Jason is the company photographer and a Project Manager for Remodeling Contractors. His first priority is to ensure that the production team has everything required to complete the project, and to facilitate any additional needs as they arise. He's also been known to get in the thick of things and "swing a hammer". One of Jason's favorite things about this job is collaborating with the team as they stage for photo shoots as it allows him to be creative every day.
Advice
"Young adults should seriously consider going into the trades. It's something you can make a career out of without costing an arm and a leg, and you won't have a ton of debt by the time you start making money", said Jason."