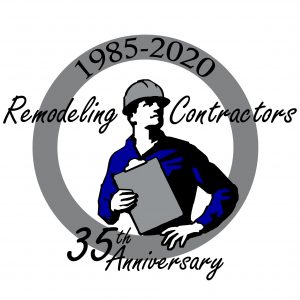 This week marks both 20 years of ownership and the completion of 35 years in business.
Urbandale, IA  January 22nd, 2021  –
Zak Fleming couldn't even imagine what his company would become when he started to lay the groundwork for Fleming Construction in early January of 2001. "I was really just looking for an opportunity to try something different" explained Fleming, "I liked being an electrician but wanted to keep learning." To hear him tell the 20 year history of what is now Remodeling Contractors, he hasn't stopped looking for those opportunities or stopped learning.
Rollie Clarkson had a similar experience when he founded the company that would become Remodeling Contractors in the spring of 1985. "I had worked summers with my family throughout High School and College." added Clarkson,  "I was really more of a Jack of all trades, master of none." After 35 years in business, Rollie seems to have mastered the art of remodeling, which is no small feat.
Clarkson and Fleming's futures seemed intertwined when they met at a Remodelers Council event a little over 10 years ago.  "I was just starting to see some success but was struggling in growing my business." said Zak, "When I met Rollie, he was so warm and open to sharing his knowledge." That chance meeting became a mentorship, and in 2020 evolved into a merger between Fleming Construction and Remodeling Contractors. The two, along with Fleming's business partner Marc Black, now manage one of Central Iowa's top Design – Build Remodeling firms. "It's hard to believe this all started with a bucket of tools and a '95 Dodge Dakota pickup truck." added Fleming, "I am really proud of our team and what we have become."
To learn more about the Remodeling Contractors story- Click Here