Hobbies
Rollie enjoys playing and collecting guitars, playing golf and spoiling his wife Debbie and 5 grand kids. He is also active at church and spends time volunteering working with kids.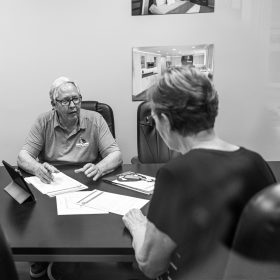 Rollie Clarkson
Rollie Clarkson, CGR , CAPS, grew up in Johnston, IA with his father, an uncle and a cousin all involved in the home building industry. For several years during his high school and college days Rollie would be put to work cleaning up job sites, roofing, painting and eventually framing and trimming out houses. He was starting to get pretty good at some things and not so good at others and often referred to himself as a "Jack of all trades, master of none".
Rollie founded RC Construction, named after his initials which became Remodeling Contractors and Cleaning Service (RCCS) in the early 90's and eventually shortened the name to Remodeling Contractors in 1997.
Rollie was an integral part of founding the Remodelers Council of Greater Des Moines, and mentored many remodelers throughout the years including our owners Marc Black and Zak Fleming. He has served as the Remodelers Council Chairman 3 times as well as HBA President in 2005. Rollie has received both The Al Cummings Award, Eric Carlson Award as well as Remodeler of the Year two times.
Today
As Remodeling Contractors Founder and Remodeling Specialist, Rollie works with clients to create a vision and budget for their projects. He believes that with out a clear budget you cannot know if you are making a sound investment. With over 35 years in the residential remodeling and home building industries, Rollie's knowledge is the bedrock of our company and we lean on him for guidance in many areas here at Remodeling Contractors.
Advice
Stick to what you know.