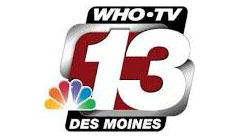 Fleming Construction's very own, Zak Fleming, was recently featured in a news story on Des Moines' WHO TV Channel 13 highlighting the remodeling boom taking place around the metro.
According to the article titled, High Cost of Homes and Limited Availability Creates Remodeling Boom in Metro, many homeowners are choosing to invest in current homes by remodeling them to meet their needs rather than buying or building new. This trend is mostly due to the high prices for homes which are being seen nationwide as well as a current record-low number of homes on the real estate market.
Because of higher home prices, many home buyers have decided that rather than buy an expensive home it is much more cost effective to find a budget-friendly home and turn it into a dream home by investing in remodeling. Remodels can be done over time so families can stay put while saving money for each phase of their project. Zak was quoted saying, "I think that remodeling is a way that people can create their dream home then trying to purchase the dream. It's more approachable. You can do it in fragments or phases. $15,000 or even $100,000 can have a big impact on an existing home but buying your dream home generally costs $300,000."
As was mentioned in the WHO article, Fleming Construction was featured at the Remodel Home show that recently took place throughout the metro. Zak and the team remodeled a first-floor space in a home in Urbandale where we could create a family's dream space while staying mindful of the costs. The dramatic remodel involved removing a wall between a kitchen and dining room to create a larger, more open floor plan in the kitchen. A mudroom was added for organization and we were able to maximize the visual impact with some great countertops, floors, and finishing touches that look expensive but also fit into the family's budget. Like any of his remodeling projects, Zak takes pride in working hand in hand with the homeowners on the design, budget and every aspect of this project.
While kitchen and backyard remodels are the current trend in the remodeling industry, Fleming Construction has experience in transforming all areas of the home including bathrooms, basements, sunrooms, or the whole house. Zak is dedicated to providing exceptional service both during and after the job and using the best-quality materials possible that not only provide appeal but are budget-friendly. He has more than 15 years of experience in the industry along with being a Master Electrician, CGR, and a member of Professional Remodeler's 40 under 40 class of 2014. Learn more about Fleming Construction at FlemingConstructionLLC.com.