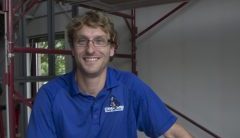 Des Moines, Iowa (January 20th, 2017 ) — The Remodeler's Council and Home Builders Association of the Greater Des Moines named Zak Fleming of Fleming Construction as it's Remodeler of the Year. 
Fleming was chosen for this honor, by vote of his Remodelers Council peers, due to his outstanding service and dedication to the association in 2016. Zak, an immediate past Chairman of the council, continued service to the council showing great dedication and loyalty.
"Zak is a true leader, a visionary and the Council is fortunate to have had him in a leadership position over the past 5 years." stated Dan Knoup, the Home Builders Associations Executive Officer.  "His leadership was not only apparent to our local members but it also garnered the attention of the National Association as he was named to their annual 40 under 40 list in 2014."
The Homebuilders Association of Greater Des Moines, chartered in 1944, is a non-profit trade association affiliated with the National Association of Homebuilders (NAHB) and the Homebuilders Association of Iowa (HBAI). The HBA of Greater Des Moines is dedicated to the advancement of the building industry, its members and the communities it serves. For more information visit www.hbadsm.com.
Current Remodelers Council Chair, Steve Archer mentioned Zak's involvement, "As chair of the membership committee in 2016, Zak implemented a membership program that greatly increased involvement and membership numbers for the Council. Many thanks to Zak for his service to the Remodelers Council over the years. We are lucky to have him as a member."
The Remodelers Council of Greater Des Moines is an association of remodeling contractors, specialty trade contractors and building material suppliers dedicated to maintaining the highest standard of professionalism, superior craftsmanship and customer satisfaction. Members of the Remodelers Council adhere to a strict code of ethics and participate year-round in networking and educational events as part of our trusted affiliation with the National Association of Home Builders, Home Builders Association of Iowa, and Home Builders Association of Greater Des Moines. For more information visit www.remodeldsm.com.
Zak was humbled by the honor, stating "I am proud of the work that we accomplish in the RC and am honored that my peers would even nominate me for Remodeler of the Year with so many dedicated people here in central Iowa."