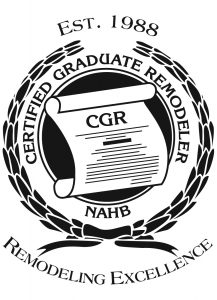 Des Moines, IA – Zak Fleming of Fleming Construction LLC in Des Moines has earned the Certified Graduate Remodeler (CGR) designation from the National Association of Home Builders.
The CGR designation recognizes those remodelers who demonstrate exceptional business integrity, technical competence and a solid track record of customer satisfaction. To earn the CGR, a remodeler must complete a series of industry-specific education courses, provide letters of recommendation, submit proof of licensing and insurance if required by the local jurisdiction and adhere to a strict Code of Ethics. The CGR designation stands for professionalism, experience and a commitment to quality.
Fleming Construction has been serving the Des Moines Metro for almost 15 years now with Zak at the helm. Zak is also a Master Electrician and last year was named one of the top 40 under 40 by Professional Remodeler Magazine.
"I am proud to have achieved the CGR designation," said Zak. "The coursework and training that's part of the CGR educational process will enable me to better serve the home owners here in the metro area."
For additional information about the CGR designation, visit www.nahb.org.