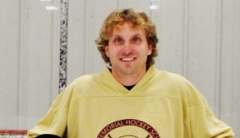 Des Moines, Iowa (July 7,2014) — Professional Remodeler, the leading business resource for the remodeling and home improvement market, announced its 40 Under 40 Class of 2014 in its July issue and named Zak Fleming of Fleming Construction LLC as one of the remodeling industry's rising stars.
The 2014 class was chosen from more than 100 applicants and joins the previous 120 recipients of the 40 Under 40 franchise that Professional Remodeler launched in 2011. This distinguished class is diverse in its professional and personal interests, along with its commitment to service in professional societies and philanthropic organizations, such as Habitat for Humanity.
This year's class includes a wide variety of owners, kitchen and bath designers, directors, presidents, and vice presidents leading remodeling businesses ranging from large multimillion-dollar firms to smaller operations with annual revenues in the neighborhood of $500,000. "We noted some incredible advances in how the 40 Under 40 professionals manage their business," says Professional Remodeler Editorial Director/Publisher Patrick O'Toole. "Specifically, the role of technology, design software and the ability to manage a job site remotely have resulted in viewing photos, 4D images, and sales presentations with the flick of a finger on a tablet. These 40 professionals not only share the desire to be successful, they also want to build a solid foundation for the future of the remodeling industry."
In addition, Professional Remodeler's Tom Swartz spoke with Molly Switzer and Zak Fleming, two members of the 2014 class. In the Remodeler's Exchange they talk about running a successful business, how and why they chose to enter the remodeling business, the challenges of starting a remodeling business, and more, all while under the age of 40.
To learn more about Professional Remodeler's 40 Under 40 Class of 2014, visit  http://www.proremodeler.com/40-under-40/2014 or contact Patrick O'Toole at potoole@sgcmail.com. Professional Remodeler is published by SGC Horizon/Scranton Gillette Communications, based in Arlington Heights, Ill.