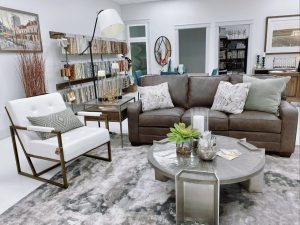 JY Design and Remodeling Contractors partner in new design showroom to create a well rounded customer experience.
Urbandale, IA  December 11th, 2020 –
With a new year comes a new location and with a new location comes a new collaboration between two home improvement experts that is sure to turn a few heads. Located at 3051 104th st in Urbandale this shared space is has over 3,000 square feet which houses the design staff of both Remodeling Contractors and JY Design along with a design studio centered around the customer experience.
JY Design is owned by Julie Youngblade who founded the company in 2009. "I am excited that we have more space than our previous location," said Youngblade, "it is light and bright and we are anxious to fill it up with great new products." The new location also comes with warehouse space and is connected to Remodeling Contractors office and workshop in Urbandale giving the two companies plenty of room to grow. "We call this area of Urbandale "Remodeler's Row" because of its proximity to our suppliers and trade partners." explained Zak Fleming, one of the owners of Remodeling Contractors, "We have been here for 5 Years now and find it saves our customers time when searching for the right products."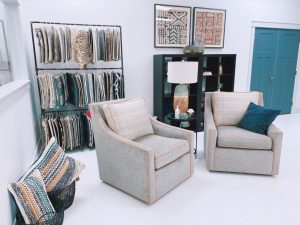 Along with a great location the new space has been updated with amenities to cater to the complexities of designing spaces for clients. " We now have a conference room with a large monitor, stepping up our ability to show clients our vision for their home!" stated Julie.  Marc Black, Fleming's business partner agreed adding, "The 3D Rendering software that we use makes it easy for customers to make sure they are getting just what they are expecting." Along with technology, the new showroom boasts multiple vignettes showcasing everything from living room furniture to custom bathrooms, with a custom kitchen coming in February.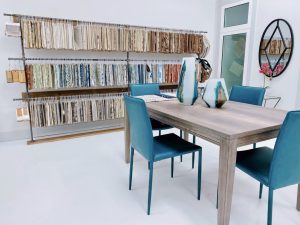 "Many businesses are forming strategic alliances to reduce overhead and cross promote," stated Zak, "this is a smart move for us and we are happy to have JY on the team." This is Black and Fleming's 7th strategic partnership to date with the acquisition of Remodeling Contractors earlier this year. "We are so excited about our move to partner with Remodeling Contractors!" added Julie,  "Although we still operate as an independent business, the co-mingling of our showroom with RC's renovation displays really makes for a winning combination. Shelby and I are thrilled to be in the new location and working side by side with the RC team. "
For more information about JY Design (CLICK HERE) and Remodeling Contractors (CLICK HERE)