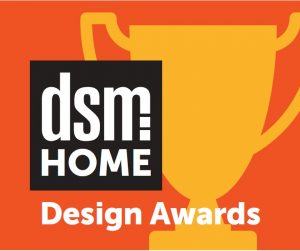 Des Moines, Iowa (December 1st, 2020)- dsm is pleased to present the finalists for the first-ever dsm Home Design Awards. Join us on March 9, when we'll announce the gold, silver and bronze winners at a virtual event. The winners also will be featured in a special Home Design Awards magazine that will be published with the March/April issue of dsm.
We also invite you to vote on your favorites in the four main categories here for our Readers' Choice Awards. Voting will remain open until January 22; winners will be announced in the March/April issue of dsm and at the March 9 event.
The finalists listed below were chosen by an expert panel of judges: Kim Augspurger, president and CEO of Saxton; Claudia Cackler, executive director of the Iowa Architectural Foundation; Jeff Fleming, director of the Des Moines Art Center; Angela Jackson, owner of the Great Frame Up; Jae Hwa Lee, assistant professor of interior design at Iowa State University; Stephen Orr, editor-in-chief of Better Homes & Gardens; and Neil Ward, associate professor of graphic design. The judging was blind for optimal fairness.
INTERIORS
Bath: Projects Contemporary Furniture • Texturious Designs • Eden & Gray Design Build • Rosalie Gallagher Designs, Ltd.
Dining Room: K. Renee Home • The Kenilworth House • Liz Lidgett Gallery and Design
Large Kitchen: AIM Kitchen & Bath • Elizabeth Erin Designs • Jillian Lare Interior Design LLC • Modern Touches • Projects Contemporary Furniture
Living Room: Black Birch Homes and Design • The Elements at Prairie Trail • Rosalie Gallagher Designs, Ltd.
Master Suite: K. Renee Home • Remodeling Contractors • Silent Rivers Design+Build
Small Kitchen: MBG Renovation • Modern Studio • Teal Creek Homes
Specialty Room: Aaron's Home Improvement, Inc. • Design 2 Build • Eden & Gray Design Build • Grand Homes & Renovations

EXTERIORS
Deck/Patio/Porch: Ground Breaker Homes • Kimberley Development • Silent Rivers Design+Build
Outdoor Kitchen: K&V Homes, Inc. • Outdoor Transformations
Residential Landscape Design: Kimberley Development • Outdoor Transformations*
Residential Swimming Pool/Spa/Water Feature: K&V Homes, Inc. • Kimberley Development • Silent Rivers Design+Build

HOME
Addition Project: Grand Homes & Renovations • Silent Rivers Design+Build
Contemporary Architecture: Imprint Architects • Novak Design Group • PLaN Architecture • Rowland Construction Company • Substance Architecture
Historic Renovation/Remodel: Barnum Floors • K&V Homes, Inc. • Zenith Design + Build
Room Remodel Before/After: The Kitchen & Bath Company • Michelle Pulver Designs • Wild Rose Interiors
Traditional Architecture: Ahmann Design, Inc • Imprint Architects • Silent Rivers Design+Build

DETAILS
Decorative Glass and Mirror: Kimberley Development • Meghan Blum Interiors
Fireplace: Kimberley Development* • Meghan Blum Interiors
Interior/Exterior Lights: Kimberley Development • Lighting Bug Outdoor Lighting & Electric*
Millwork: Kimberley Development* • Meghan Blum Interiors
Stone and Tile: K&V Homes, Inc. • Modern Studio

* PLACED TWICE IN THE CATEGORY
For more information visit dsmhomedesignawards.com