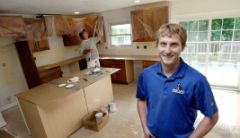 You can't remodel a home between three commercial breaks.
That should be obvious, said Zak Fleming, a contractor and vice chairman of the Des Moines Area Remodelers Council. But in a world of seemingly endless TV shows about house hunters, flippers, sellers and bidders, it's easier than ever to think your dream home is a few easy weekend projects away.
Fleming, 37, knows the challenges. His company, Fleming Construction, remodels about 20 homes a year.
Fleming was recently named to Professional Remodeler magazine's 40 Under 40 and has been nominated for the National Home Builders Association's remodeler of the year. He sits on the board of directors for the National Association of Home Builders and is involved with the Home Builders Association of Greater Des Moines and the Remodelers Council of Greater Des Moines. Read More.