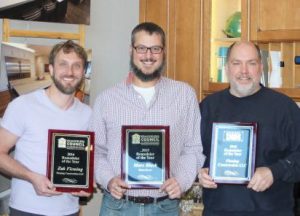 Des Moines, Iowa (December 1st, 2018) — The Remodeler's Council and Home Builders Association of the Greater Des Moines awarded Fleming Construction as Remodeler of the Year. 
Fleming Construction was chosen for this honor, by vote of their Remodelers Council peers, due to outstanding service and dedication to the association in 2018. This marks the 3rd year out of the last 4 where a member of the company has held this title.
"Scott really did all the heavy lifting this year," said Zak Fleming, Fleming Construction's founder.  "his role in the success of this September's Tour of Remodeled Homes sealed the deal."
Zak had the privilege of serving as the Remodelers Council chair in 2016 and won Remodeler of the Year based on that service. His partner Marc Black had preceded him in 2015 with the same distinction for his role as council Chair for that year. In 2018, the Council decided to change the judging criteria to a company based approach, previous years were based on individual performance.
Marc stated, "It has been quite a surprise to win this year, I know the staff is excited to hold this honor company wide this time, it was always really a team effort."
"I am really proud of the growth we have had this year at Fleming," said Scott Spetman, Estimator at Fleming Construction, "we have a great team and I enjoy being a part of it."
The Remodelers Council of Greater Des Moines is an association of remodeling contractors, specialty trade contractors and building material suppliers dedicated to maintaining the highest standard of professionalism, superior craftsmanship and customer satisfaction. Members of the Remodelers Council adhere to a strict code of ethics and participate year-round in networking and educational events as part of our trusted affiliation with the National Association of Home Builders, Home Builders Association of Iowa, and Home Builders Association of Greater Des Moines. For more information visit www.remodeldsm.com.
The Homebuilders Association of Greater Des Moines, chartered in 1944, is a non-profit trade association affiliated with the National Association of Homebuilders (NAHB) and the Homebuilders Association of Iowa (HBAI). The HBA of Greater Des Moines is dedicated to the advancement of the building industry, its members and the communities it serves. For more information visit www.hbadsm.com.