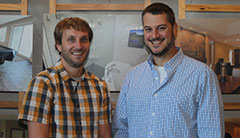 Fleming Construction LLC, announces new professional partnership to expand as a Des Moines area leader in residential remodeling projects.
Des Moines, Ia  November 16, 2017 –
Beginning on January 1, 2018 Zak Fleming will be teaming up with fellow remodeler, Marc Black, in a new partnership that will operate under the title Fleming Construction LLC. This partnership will allow both professional remodelers to double down on their business and their shared commitment to providing the best service possible to their customers.
With a record-low number of homes currently on the real estate market and the high prices for new homes, the remodeling industry has seen accelerated growth. Homeowners are choosing to reinvest in existing homes and design their dream home with a professional remodeler rather than spending twice as much on a brand-new home. Fleming and Black both recognize this trend and feel that teaming up will allow them both to use their shared unique vision to provide a "service-oriented approach to transforming kitchens, basements, bathrooms and entire abodes into the space of homeowners' dreams."
Fleming and Black have a combined 40 years of professional experience in the remodeling industry. Marc brings 20 years of experience being involved in the residential remodeling and homebuilding business. His expertise includes estimating, sales, fieldwork, and project management. Zak founded Fleming Construction in 2001 as a Master Electrician and has experience in remodeling everything from sunrooms to bathrooms, basements, kitchens, and whole-homes. Both men have been chairs of the Remodelers Council of Greater Des Moines, hold Certified Graduate Remodeler titles, and have been awarded by Professional Remodeler magazine as one of the prestigious 40 Under 40.
Within their new partnership, Fleming Construction will continue to provide the highest quality service and utilize the best materials possible for a positive remodeling experience. They will sit down with customers to discuss expectations, budget, and the whole remodeling process from start to finish. Their goal is to work together to "always put customers first, hire the best people, and increase our capacity to serve the dynamic needs of homeowners throughout Central Iowa."
To learn more about their experiences and partnership see the official press release, Remodeling Industry Standouts Fleming, Black Partner in Service of Central Iowa Homeowners.