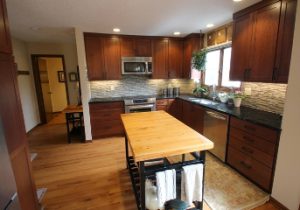 Fleming Construction LLC released the location of their 2014 Tour of Remodeled Homes tour site and leaked a video sneak peek on their youtube channel earlier this week.
The video reveals the updated kitchen, mudroom, and master bathroom of an Urbandale home slated to be open to the public in September of 2014.
"This was a great project to work on," said Zak Fleming, owner of Fleming Construction, "We really enjoyed working with the client on bringing her vision to life."
The home located at 4012 Mary Lynn Dr will be part of an annual showcase of homes put on by the members of the Remodelers Council of Greater Des Moines. Going on for 13 years, the Tour of Remodeled homes features freshly updated kitchens, baths, basements and whole home restorations.
"We have been a part of the tour for five years now," said Fleming, "it gives us a chance to meet with many perspective clients and see if we would be a good fit for their project."
Running on September 20th and 21st the Tour of Remodeled Homes has featured as many as 15 homes all freshly updated for the public to review. Tickets are available at all locations open on the tour.