By Donna Alley, Designer – Remodeling Contractors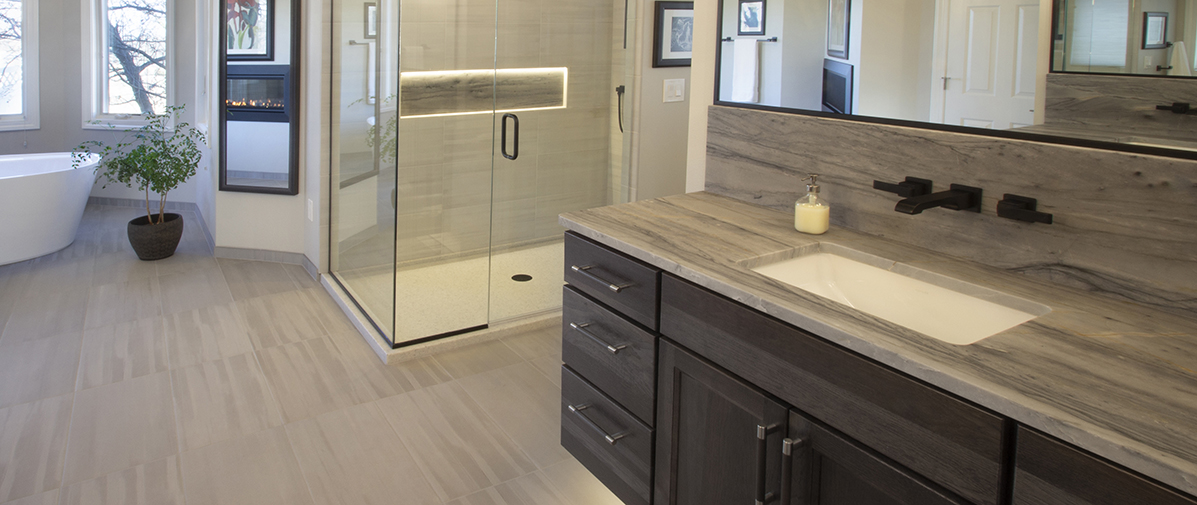 Have you been dreaming about a master bathroom remodel?  Whether you are interested in a full overhaul or making small upgrades, a bathroom makeover can have a significant impact on the enjoyment of your home.  Along with the kitchen, the master bathroom is often at the top of homeowner's list of rooms they want to update.  As you would expect, remodeling these spaces adds the most to a home's resale value.  Generally a homeowner can expect a return of over 60% on their investment after a master bathroom remodel.
Where do you start designing your dream master bath?  First, visit Houzz.com , Pintrest.com, or search the endless sites and ideas online.  Save photos that inspire you.  You will begin to see color palettes, plumbing fixtures or styles that you are drawn to as your inspiration pictures feature similar themes.  Narrow down your favorite elements and that will be the foundation of your design.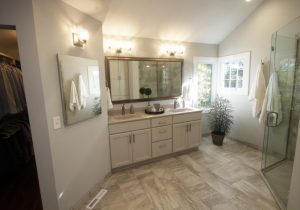 What do you want to invest in your remodel?  If your budget is tight, consider the following suggestions.  Changing the wall paint color, updating the cabinetry hardware, hanging a framed vanity mirror and replacing the vanity lights will have big impact for a modest investment.  However, if a complete gut is the plan then the cost range of master bathroom remodels varies considerably depending on the finish selections and plumbing requirements.  Typically master bathroom remodels range between $24,000 and $58,000 (based on Remodeling Contractor's two year average). Keep in mind that your investment adds to the value of your home.
Now that you have your inspiration and budget where do you start?  Every design project needs to begin with the "star of the show".  In a master bathroom it is often the countertop or a dramatic tile selection.  Every other choice in the design needs to play a supporting role to the star.  If you get too many stars competing for the spot light it causes an overwhelming uncomfortable space with too many focal points.  The current trend is to create a peaceful spa like atmosphere.  Even though you want your master bathroom to be beautiful keep in mind that every selection you make needs to function well and hold up to a humid environment.  Spending a little more on high quality plumbing fixtures with a lifetime warranty on the finish is a good investment.  Also using a grout that does not require sealing will keep it looking great for years.  Shopping for low maintenance finishes with excellent warranties is the key.  Hiring an experienced contractor or interior designer will also insure that your project runs smoothly and looks beautiful for years to come.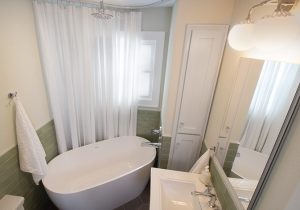 How can you save money on a master bath remodel?  If you are interested in a complete over haul one of the best ways to keep costs in check is to keep all of the plumbing locations where they currently are.  Moving plumbing lines, especially the stool plumbing stack, can add thousands of dollars to your project.  Choosing chrome fixtures instead of other metal finishes will also help keep costs down. Many homeowners are choosing to enlarge their showers and remove the rarely used tub altogether.  Removing the tub creates substantial savings on plumbing fixtures as well as plumbing labor. Of course keeping an eye on every selection you choose and getting creative are a must.  For example, a real stone accent wall in the shower may be a budget buster but adding a reasonably priced oversized tile with a similar look achieves the look you are after at a fraction of the cost.
What are the master bathroom style trends coming in 2021?  Biophillia, the integration of nature as a focal point, creating a sensory connection with nature started to gain momentum last year and will continue into 2021.  It includes entire walls of plants or integrating interior and exterior spaces and features materials found in the great outdoors.    A master bathroom is an excellent environment for plants and natural materials.  Another trend that has been inspired by Japanese and Scandinavian design is Japandi.  It incorporates some elements of Biophillia and is defined as a hybrid trend that takes the modern flair of Scandinavian design and combines it with the timeless elegance of a Japanese aesthetic to create a style that brings together the best of both worlds. It is the ideal aesthetic to create a calm retreat in your master bathroom.  Check out these two design aesthetics as you are searching for inspiration.
What are the top finish and selection trends for master bathrooms in 2021?  Matte finishes on plumbing fixtures, tile and countertops are having a moment and are a great choice for bathrooms.  Choosing a matte black or matte white finish for your faucet is a great way to minimize water spots.   Adding a texture to shower glass makes a lower maintenance surface to avoid having to squeegee after every use.  Neutral colors, especially those taken directly from the nature are trending – think the sky and ocean.  Using these tones creates a very peaceful spa-like bathroom.  Interesting sink shapes in atypical finishes paired with unique sculptural faucets take a master bathroom to the next level.  Lighting has an incredibly important role to play in a master bathroom as well.  A statement light over a vanity or free standing tub is like adding a stunning piece of jewelry to a basic outfit.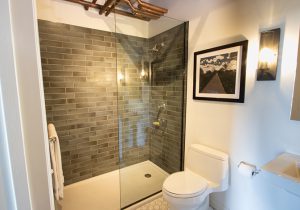 There have never been more beautiful and functional finishes available to design your dream master bathroom.   Think outside of the box and be creative incorporating timeless looks with a dash of your favorite trend to create your amazing vision. For more great inspiration on Master Bathrooms Click Here