The bathroom tends to get the reputation as a place where one should only spend as much time as necessary, a sort of grimy place where you get in, do your business, and get out. However, bathrooms have more recently gained a more positive status as an area of solitude. A place to get away, relax, wash away the troubles of the day, become rejuvenated, and viewed as almost spa-like.
This transformation of the stance on the highly important lavatory, has also led to the increase in bathroom remodeling projects. Homeowners want to remodel the bathroom into a place they can enjoy, a place that is not always dirty or cluttered. A place they can call their own.
Depending on the project and the homeowner's view, a bathroom remodel can be a huge undertaking. Sometimes space needs to be increased or water sources and pipes need to be moved. Large fixtures like bathtubs and toilets can sometimes pose big challenges. But other times, bathroom remodels can be as simple as replacing a sink, updating flooring, or changing a few colors and light fixtures.
One thing we have found when we do a lot of Des Moines bathroom remodels, is that we can simply update or upgrade a bathroom by making minor changes. Many bathrooms that seem small can become less crowded without a major overhaul or knocking out walls to completely change the layout. Some simple renovations in the shower or sink along with some smart storage solutions provide simple, and more reasonably priced, alternatives.
By utilizing some of the following tips you can maximize the area in your bathroom and transform it into your ideal space. And while there are many tricks and illusions for making a small bathroom appear larger, these tips are perfect for any sized bathroom. If you still are not sure where to start with your Des Moines bathroom remodel, our experts at Remodeling Contractors can make suggestions based on your needs and your vision of the perfect spa-like oasis.
Shape Up the Shower
That is right – you can literally free up space in your bathroom by making your shower a different shape. While most are square or rectangle, consider a triangle shaped corner shower. You can also get stalls that are curved which take up less space as well.
If it is not in your budget to completely replace the shower you can also add shape by using a curved curtain rod. It will not take up any more space outside the shower, but you will find yourself with more elbow room to move around while in the shower.
Does your current shower have a door that swings out? Free up this space by installing sliding glass doors or removing the door completely and replacing it with a rod and shower curtain. You could also consider the newest trend and remodel your bathroom with a walk-in shower. No door to take up space or to clean either.
Door Do-Over
Another aspect of the bathroom that tends to take up space is the entry door. Next time you enter a bathroom take note of which way the door swings. Typically, it swings in. But if you are trying to expand the space in your bathroom consider a door that swings out instead. It will feel less cramped as you are entering, and you won't hit your elbow on it while standing at the mirror.
Other options for your bathroom, if wall space allows of course, are installing a pocket door or the ever-popular sliding barn door. With so many colors, finishes, textures, and hardware to choose from you can make a barn door fit your master bedroom décor and become a showpiece in the room.
Along with changing the direction or type of door, you can also maximize your bathroom space by utilizing the backside of the door for storage. A couple of towel racks, hooks for robes, or even a hanging storage unit with pouches can turn this wasted door space into a simple storage area.
Simplify the Sink
The most popular furniture item for many homebuilders to install in bathrooms for many years was the vanity. A countertop with a built-in sink and cabinet and drawer space below. How could we go wrong with this in our bathroom? While there is nothing wrong with this concept and many vanities provide ample amounts of storage, many bathroom remodels now are going to more trendy sinks and countertops.
When trying to maximize your bathroom space, pick a vanity that does have space underneath for storage. Whether it is cabinet doors or open shelves with some baskets, you will want to use this space rather than leave it open like a pedestal sink would. This is a great place to store towels or other bathroom items that you want to be readily accessible.
You will also want to consider the space on the countertop of the vanity. Leave enough space around the sink to store a few things you use on a regular basis. By installing a vessel sink you free up some countertop real estate and to maximize the space even more consider an oval shaped sink instead of a square.
A rounded vanity with curved edges instead of sharp corners will take up less surface area in your bathroom as well. And it will not leave you running in to those pesky corners of a more traditional vanity.
Toilet Tips
Replacing a toilet can be an extremely daunting task. But if you are doing a bathroom remodel and want to maximize your space, now is the time to do it. While it may seem like a minor change, installing a toilet with a rounded bowl can save room as opposed to oval shaped bowls that are more elongated and extend out farther from the wall.
There is also the option of installing a wall-mounted toilet. While this saves a ton of space by not having a tank – this is installed in the wall behind the toilet – these toilets do require some rerouting of plumbing and some cutting into the drywall. They look modern and sleek but can pose challenges if not installed properly.
One more tip around the toilet, use the top of the tank as storage. Extra toilet paper or even hand towels work great in a basket on the back. Some remodeling projects have also extended the countertop of the toilet to provide more counter space. And shelves above the toilet also make a great vertical storage for items that are used less often.
Get Smart with Your Storage
For as little time as we spend in the bathroom there always seems to be a lot of things that need to be stored there. From towels, to make-up, to curling irons, shampoo, and a plethora of personal hygiene items, everything needs its place. And if you are trying to maximize space in your bathroom, finding all these items a place is going to cut down on clutter and make your bathroom look and feel larger.
Shelves – Shelving is an obvious form of storage for any room. But in the bathroom, you want to place shelves where things are out of the way but still accessible. The shelves you choose for the bathroom can be a part of the décor while still be functional as well.
When choosing where to put shelves during your bathroom remodel, do not be afraid to think outside the box. Maybe some shelves for towels above the end of the bathtub or even above the door. Above the toilet makes a great place for shelving to hold towels, toilet paper, and an assortment of toiletries.
Recessed shelving is a great way to maximize your bathroom space and it is easy to install during a remodeling project. Simply cut into the drywall and place some shelves between the studs to create storage IN the wall instead of ON the wall.
Do not be afraid to go vertical with your bathroom shelves. Items that do not get used as often or even just some decorative items can go on high shelves above a vanity mirror or all the way up that wall in that dead space between the toilet and the sink.
Hooks – Hooks are easy to install and can go almost anywhere in the bathroom. Put some hooks next to the sink to hang towels or curling irons. Hooks on the wall next to the shower or even on the inside of the door are great places for wet towels or for storing a robe. You might even consider some floating hooks on a second shower rod on the inside of the shower. Hang some shower caddies to store shampoo or hang washcloths and loofahs on them.
Ledges – Smaller than a shelf, but just enough space to hold a few small items, consider some strategic places for a small ledge. Right under the mirror above the sink a ledge is a great place for your toothbrush and toothpaste or soap dispenser. This still leaves space on the vanity below the ledge for other daily use items. Or it clears the clutter off the vanity.
Other places for ledges might be above the toilet or even above the toilet paper dispenser as a place to set the next roll of toilet paper or to hold the phone you forgot to take out of your pocket. There are even small ledges that can be place over outlets to set an electric toothbrush on or to hold electric razors.
The possibilities for bathroom storage really are endless and can include a combination of the three items above. You can also include some stand-alone storage or low-profile medicine cabinets. With so many choices you can personalize your bathroom to fit your needs. And when you do your bathroom remodel in Des Moines, Remodeling Contractors can make suggestions and help find the storage solutions to fit your needs and maximize your space.
Des Moines Bathroom Remodel Projects
There are so many things that can be done to update and remodel a bathroom. Here are just a couple examples of Des Moines bathroom remodel projects that Remodeling Contractors has done to help homeowners maximize their space while putting a modern touch on the area as well.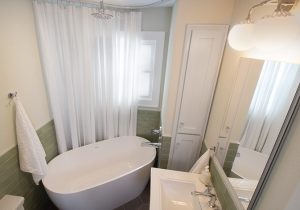 44th St – This century old home got two-bathroom makeovers in the process of this remodel. We were able to modernize the look of both spaces with tile and fixtures. Their smaller space was maximized by installing a stand-alone tub and a unique, yet eye-catching angle. See more here.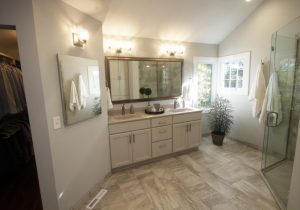 26th St – We maximized the space I this bathroom remodel by taking the tub out and installing a large, glass corner shower. The double vanity and floor to ceiling cabinets provide a ton of storage space, leaving the floor wide open for a comfortable and inviting retreat. Learn more here.