Hobbies
In her free time Donna loves to be outdoors hiking, kayaking and gardening, or spending time with her four kids and two grandkids.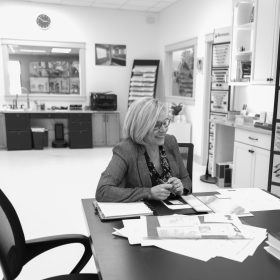 Donna Alley
Growing up on a farm in Weslaco, Texas, Donna had a passion for art and thought that she would teach. After spending time in the classroom, she decided on a different approach and received a degree in interior design from Drake University.
Donna Alley, has more than 15 years of decorative painting and interior design experience, she specializes in walking clients through the design process to ensure that their dream for newly remodeled space is realized. From the selection of flooring, countertops and finishes to furniture, shades, blinds and other components of interior design, Donna's work centers on matching the style and taste of clients with the overall scope of and their vision for home improvement or renovation projects.
Today
Today Donna is a designer for Remodeling Contractors, leading clients through their entire selection process. With the customer's wishes and budget at the forefront, she loves to see people's dreams come to life. Donna believes Remodeling Contractors is unique because it is a diverse group of very independent people with a lot of experience who all come together to get the job done.
Advice
"Design is such a broad field, once you have the set of skills needed you can do anything you want. It gives you the option to change course, try new things, and be creative everyday."