Hobbies
Marc is married with two kids. His favorite hobbies include golfing, reading, and memorizing portions of the bible to share with his congregation, and playing a fantasy card game called Magic the Gathering.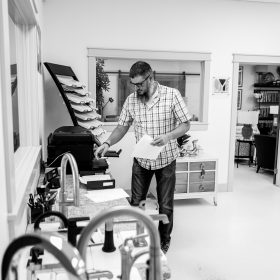 Marc Black
From Fort Dodge, Iowa, Marc Black grew up a small town farm boy. He remembers playing with Legos, Lincoln Logs, and other tinker toys, and it didn't take long for him to realize what his dream job would be. Confirming he had found his passion after taking drafting and CAD courses in high school, he immediately decided he wanted to be an architect. During Marc's junior year of high school he entered a contest where he designed a ranch style home. Marc's plan won and his reward was to be part of the actual build-out of his winning plan during his senior year. With this hands on experience, Marc realized he loved the construction side of the business more than the architectural side. After his high school graduation, Marc went to Iowa Central Community College and received his Vo-Tech degree in carpentry.
Marc Black CGR, CAPS is a 2022 Fred Case Entrepreneur of the Year Finalist, 2015 Remodeler of the Year, and a member of the 2015 Professional Remodeler Magazines list of the top 40 under 40 in the nation. With over 20 years of experience in the residential remodeling and home building industry, Marc became a partner in Fleming Construction in 2017 which merged with Remodeling Contractors in 2020.
Today
With over 20 years of experience in the residential remodeling and home building business, Marc is a partner at Remodeling Contractors, which he considers to be his biggest success year to date. He specializes in estimating, sales, field work, and project management and knows that this is what he is meant to be doing. Marc's a very motivated individual with a strong work ethic. He has the knowledge and organizational skills to inspire confidence in anyone he works with.
Advice
"One piece of advice I would give to a young person going into the trades is to have patience and never stop learning. Technology, materials, and techniques are changing so rapidly, it's important to be able to adapt and learn."