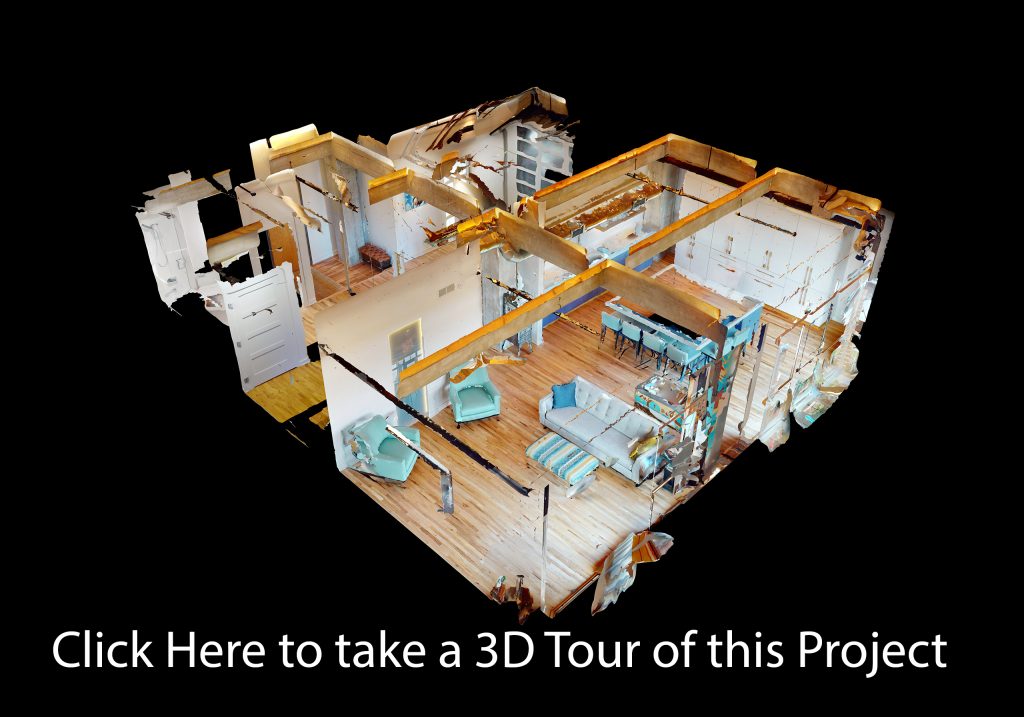 In this Japandi-inspired remodel of a downtown loft in Des Moines, Iowa, simplicity, coziness, and industrial style are perfectly blended. The space features bright white walls, natural oak floors, and wood ceilings that create an airy and spacious feel. The kitchen and bathroom are designed with white quartz countertops and white textured tiles on the kitchen backsplash and shower surrounds to create a sleek and modern look.
One of the unique features of the kitchen is that the appliances are hidden behind panels that match Remodeling Contractors Signature line of Cornerstone Cabinets, seamlessly blending them into the design. This adds to the clean and minimalist aesthetic of the space.
In the kitchen, subtle lighting adorns the floating shelves and illuminates the white tile backsplash. In the living space, lights flank the concrete beams, creating a warm and cozy ambiance while also highlighting their rough texture. Indirect lighting illuminates the wood ceiling, adding warmth and paying homage to the building's industrial past.
The soft green vanity cabinets in the hall bathroom provide a calming contrast to the stark white walls and countertops. Oak accents have been incorporated throughout the space to create a natural and organic feel and to give this family a soft place to land after a busy day!