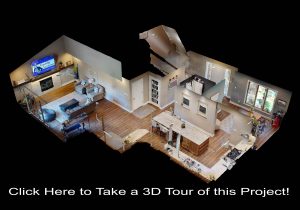 West Des Moines two story homes create challenges for homeowners with layouts including small rooms that don't seem to flow together. The family that lives in this home found that entertaining and gathering in the kitchen was almost impossible with the current layout and asked for an addition to solve the problem. After listening to the challenges of that they faced and working with the homeowners, a new solution emerged without an addition, reducing the overall budget and allowing the whole main floor to be updated.
After removing the wall between the kitchen and dinning room, the team was able to design an island for family and friends to congregate around. Then by flanking the island with a large commercial range surrounded by a custom backsplash and custom hood a picture perfect kitchen was born. Lastly by repeating elements within the range hood, island and fireplace, the team was able to create unity throughout the space. This visually makes the space feel larger and feels like the addition was built.
From the initial concept, all the way through the final planning without an addition, the design team needed to use every tool at their disposal. Using 3d renderings to help the homeowners visualize the space to make decisions easy, even on the more difficult elements like the fireplace and custom range hood.  The final project was a show stopper and was awarded Best Use of Space in the 2020 Tour of Remodeled Homes, click here to see more photos of this home.