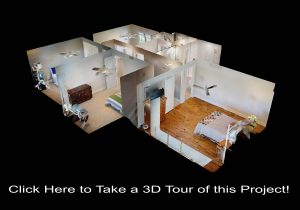 West Des Moines two story homes create challenges for homeowners with layouts including small rooms that don't seem to flow together. The family that lives in this home found that entertaining and gathering in the kitchen was almost impossible with the current layout and asked for an addition to solve the problem. After listening to the challenges of that they faced and working with the homeowners, a new solution emerged without an addition, reducing the overall budget and allowing the whole main floor to be updated.
After remodeling the 1st floor of the home, this couple invited the team here at Remodeling Contractors to put their mark on the 2nd floor. By redesigning the layout of the bathrooms and one bedroom, the design team was able to make the master bathroom much larger. By adding a tub and a large walk in shower this is now a true luxury bath while not sacrificing the hall bathroom.
The final project was a show stopper and was awarded Best Use of Space in the 2020 Tour of Remodeled Homes, click here to see more photos of this home.