Work Triangle:
The "perfect" work triangle concept was developed in the 1940s when kitchens were smaller, closed off and were typically used by just one person to cook.  The idea was that the refrigerator, oven range and sink are placed 4 to 9 feet apart (no more no less) forming a triangle so that one person could be efficient as possible to cook three square meals a day for their family.  Functioning in the kitchen in this manner has become antiquated.  We just don't live like this anymore.  The microwave has been around since 1967 so at the very least we've needed the perfect rectangle for the last 50 years.  We have open concept homes; we like to cook with our partners and have the kids do their homework at the island.  Our kitchens have become the hearts of our homes for the whole family to gather and guests to congregate.
Kitchen Work Triangle Design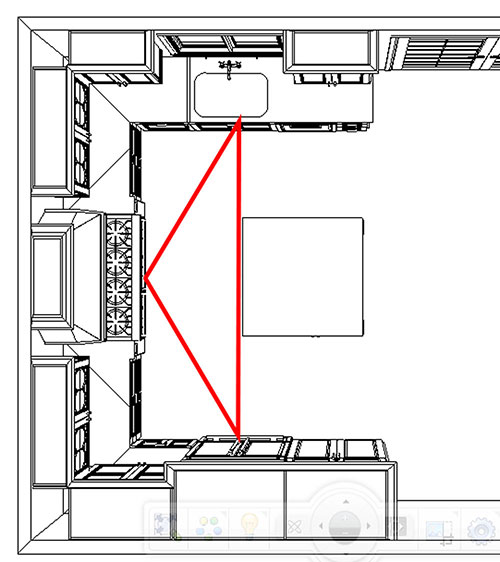 How does your life function?
While the triangle may still play a part in your design, it's important to think about how you move through your kitchen and what functions it needs to perform.  Is the swing of your refrigerator door in a common walkway?  Do you need a double oven?  What about a pot filler?  Would a drink station with a mini fridge help with congestion?  The work triangle has evolved into creating specific work zones for each task making them easier to perform.
Organizing by Work Zones:
By storing food, prepping, cooking, baking, serving, clean-up together you can maximize your efficiency.  An area for food storage including the refrigerator and pantry beside each other across from an island to drop the groceries.  A prep area that involves a sink, trash, and cutting board storage.   A cooking station that includes the stove, necessary pots and pans as well as an organized way to store all those important spices.  Utilizing toe kick drawers in what otherwise would be a wasted space to store baking sheets may be the perfect solution to keep these items close but not take up precious cabinet space.  A charging station would be a great addition to be able read recipes while cooking, along with long runs of countertops to set down hot items and a prep space.   It's great to have a coffee bar and breakfast station set up with everything from cereal bowls and spoons to coffee mugs and creamer to help make your hectic mornings run smoother. Don't forget the importance of clean-up, including deep sinks, multifunction faucets and state of the art dishwashers. Each of these tasks can be zoned with the proper tools to execute the task at hand.
Island Living:
One of the most beneficial design ideas is to include a large central island.  It has become the wave of the future as it can be adapted to become a multi-use area for a myriad of tasks.  You can serve a buffet, have kids do homework, organize and pay bills.  Adding seating on one end or along one side will allow family or guests into the space without causing overcrowding in the work areas. Also adding USB outlets to your island allows you to work while charge computers or phones.
Before
Rendering
After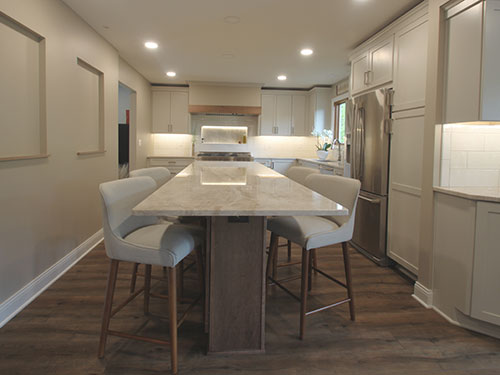 Entertaining with Ease:
If you like to entertain; dedicate a cabinet to items that you typically pull out for guests.  Wine and beer glasses, bottle openers, big bowls and platters for appetizers, candles, cocktail napkins.  You'll look like a pro when impromptu guests pop by and they will know where to go if they need anything.
Choosing the Right Countertops:
Think about what kind of countertop would be most beneficial to each of your zones.  It's quite common to have one material (typically a hardwearing one) on the perimeter of the kitchen and another (usually a showstopper) on the island.  The list of countertop options is limitless.  The two most popular are quartz and granite.  Quartz is a manmade material that requires very little maintenance, is not porous so can be kept relatively bacteria-free, it's harder than granite and is a great choice for families that may be a little harder on their kitchens.  Granite needs to be sealed once a year but the variations that mother nature can create are truly unique.  Marble is extremely popular, but a client must be informed about its maintenance.  A better choice may be a quartz product that looks very much like actual marble.
Light it up:
Never underestimate the power of great lighting.  Undercabinet lighting in task driven areas will allow you to clearly see measurements while can lights will give you over all illumination.  Using pendants over your island or peninsula can create mood lighting when dimmed.
Kid Zones:
Creating a kid-safe zone just outside of your work zone area to allow for homework, playtime, eating snacks and just hang out will allow you to all be together while keeping them away from the stove, sharp utensils and other dangerous areas of the kitchen.
No room is quite as multifunctional as the kitchen. The hub of the home, this space has evolved from a strictly utilitarian unit into a versatile room to prepare food, entertain guests and share meals.  Keep in mind that a successful kitchen design needs to blend functionality with your personal prerequisites.  No matter what the kitchen design trends are if it doesn't work for you and your family, it doesn't work.
Design Plans