Basements are taking on a vast amount of attention as one of the top areas of the home to undergo a remodeling project. Many new construction houses are leaving basements unfinished so buyers can design and construct this lower living space in a way that suits their needs. On the other hand, many owners of older homes are using the opportunity to either completely remodel an already finished basement, design and refinish partially finished basements or finally finish a basement space that has sat as empty storage space for many years.
It is not necessarily that families are growing larger, it is simply a trend that families want to utilize the space they have rather than leave it empty gathering dust and cobwebs and things they obviously do not need on a regular basis. In many basement remodeling Des Moines projects, home owners are becoming more innovative with the space. Even if it is still being used are storage, they find themselves seeking more organization and aesthetically pleasing ways to use their lower level.
Whether it is being used for bedrooms, a living space for teenagers to hang out, as a full lower level "home", or just as a bar and gaming area, when remodeling the basement there are numerous ideas and innovative designs to consider. One aspect of these projects that has gotten a lot of attention lately is the ceiling.
When dealing with a basement ceiling there are often several obstacles to work around including pipes, wires, floor beams, and duct work. This can make for a tricky choice in how to make the ceiling even without making it also feel too short, while still allowing it to fit into the design and overall aesthetic of the finished project. Below you will find six of the most popular options for finishing the ceiling in your Des Moines basement remodeling project.
Traditional Dry Wall
Typically the first ceiling option everyone thinks of is drywall. If you are finishing rooms in your basement and putting drywall on the walls, then it is simple and quick to do the ceiling as well. Drywall is a cheap and simple solution for a basement ceiling. It creates a clean, smooth finish and can be painted any color you want to create that special look and feel you can call your own. However, dry wall can also cause an already low ceiling to feel even lower, especially if you must work around low hanging pipes or duct work.
Pros:
Easy to install
Easy to repair if needed
Cost is low $400-$500
Smooth, clean look
Can be painted any color
Cons:
Can be difficult to install around ceiling obstacles
Lowers ceiling height
Easily damaged by water or pests
Drop Ceiling Tiles
Drop ceilings are another option that is high on the list for basement choices. For a while it was considered the only option because it was easy to install and allowed access to pipes and wires that were installed within the ceiling's beams. However, this option has lost some popularity as it is not as eye-catching as many of the other alternatives and did not allow for personalization such as choosing a specific color.
This ceiling choice does require some initial installation of a metal frame system that is installed to the wood beams of the basement ceiling. Light fixtures are also attached to this frame and then the tiles are fit in to the grid and around the lighting. Installing a drop ceiling is a great option for hiding pipes and wires but also significantly lowers the ceiling height.
Pros:
Allows access to pipes, wires, and duct work in ceiling
Hides exposed beams and wiring
Easy to repair as single tiles can be replaced
Easy to install
Provides a cozy look and feel
Noise absorbing properties
Cons:
Not many colors and designs to choose from
Initial cost $450-$1,500
Significantly lowers ceiling height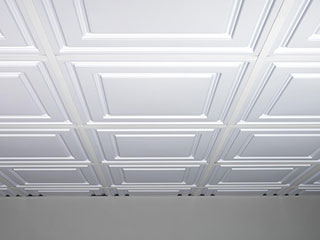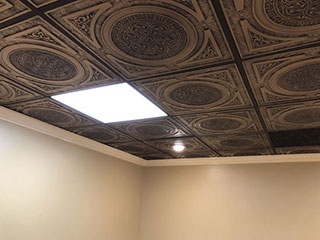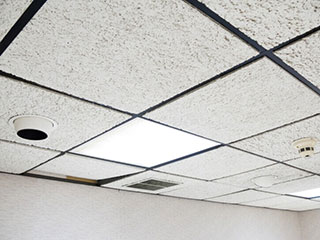 Metal
If you are going for a more modern feel you might consider using metal panels for your basement ceiling. While corrugated steel is the most popular option for today's trendy remodeling projects, you may also consider decorative tin panels or even some weathered aluminum for a more rustic look. Many remodelers also find themselves seeking out recycled metal from the roofs of old barns and buildings for that worn-out, distressed aesthetic.
Whatever metal you choose and whatever condition it is in, installing metal sheets or tiles requires having something to attach it to. It works best if you can install it directly onto existing wooden beams. Some areas may need to have plywood or strips of wood installed first to make the metal more even hanging. You may also consider mixing metal with another finish such as drywall to create two separate spaces in your basement.
Pros:
Provides a trendy, modern look
Unique, one of a kind finish
Durable
Easy to maintain
Does not lower ceiling much
Reasonably priced
Reflects light to brighten the room
Cons:
May require some initial cleaning if using recycled materials
Can be difficult to install, especially on uneven ceilings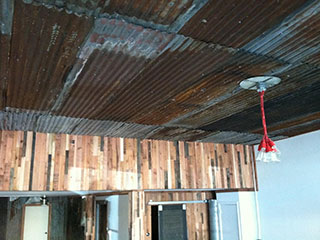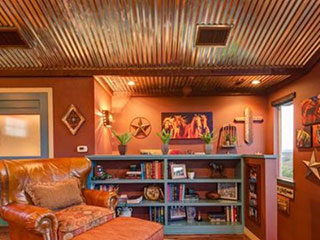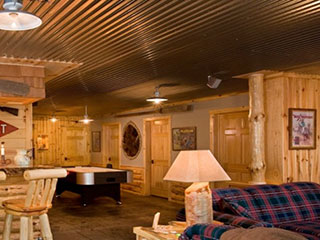 Painted Ceiling
Perhaps one of the easiest ceiling finishes to accomplish and one that is gaining tons of popularity, why not consider just painting your basement ceiling. You can see it done in many coffee shops, bars, and restaurants that are going for that trendy, industrial look. Not only is it fashionable and chic, but it is also functional and convenient. It does not require any installation and there are not worries about not being able to access pipes or wires.
Simply paint or spray on a neutral color that will complement the rest of your basement finish and you are done. Most people choose white or light gray to help brighten the basement while others choose black which hides the contrast between rafter, pipes, and duct work a little better.
Pros:
Great for low ceilings
Easy to finish
Modern, industrial look
Easy access to pipes, wires, and ductwork
Low cost $30-$100
Cons:
Leaves everything in the ceiling exposed
Exposed wires may need to be covered
Decorative Paneling or Tiles
Using decorative panels or tiles to finish your basement ceiling is a great choice when you want to do a lot of customization and really make the space a design showcase. With numerous types of tiles and an over-abundance of colors to choose from you will really be able to reflect your own unique style in your newly remodeled basement space.
Whether you choose to use a more decorative approach in just part of the basement or cover the entire ceiling, there are a variety of mediums to choose from. You may even find yourself mixing two types of materials for even more flair and personalized style. Some of the most popular decorative tiles choices include peel and stick PVC mosaic tiles which come in a variety of colors and are easy to install. You can find a unique color combination that will match your theme and paint colors as well.
Wood panels are another popular option and come in variety of colors as well as finishes such as polished wood, stained wood, and even weathered wood. One advantage of these panels is that they are rigid so work great if you have archways or curved surfaces in your basement.
If you are dealing with a dark basement with low ceilings, you may want to consider mirrored tiles to help reflect light and open up the space. Other decorative ceiling tiles materials include vinyl, textured vinyl or metal, and many art deco options. All these options can help you create as simple or as elaborate a design you want on your basement ceiling.
Pros:
Lots of designs and colors to choose from
Variety of materials
Perfect for unique customization
Does not lower ceiling much
Cons:
Installation can be tricky depending on type of tile
Large range of cost
May be more difficult to access things in the ceiling
Wood Planks
If you are looking for a more natural finish to your basement ceiling then wood planks are the way to go. Almost everyone loves the look of a hardwood floor and now that same look can provide an attractive finish to the ceiling as well. Wood planks can be purchased in a variety of wood types and can be painted or stained to provide the unique design you want in your basement remodel.
Choosing a wood plank ceiling is a great opportunity for a DIY project as well. As long as there are already support beams to attach the planks to you simply need to cut them to the right length and install them to the beams. Wood planks can also be attached to existing drywall ceilings if needed. By alternating wood types or mixing different colors of pre-stained planks, your basement ceiling will have a unique, natural feel to fit your design needs.
Pros:
Easy to find materials at local hardware store
Easily customized with paint or stain
Low cost $650-$2000
Can be installed on exposed or already finished ceiling
Simple to replace a few boards if damaged
Does not lower ceiling significantly
Cons:
Wood can be warped or uneven
Possible pests
Installation can be time consuming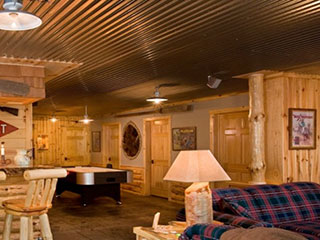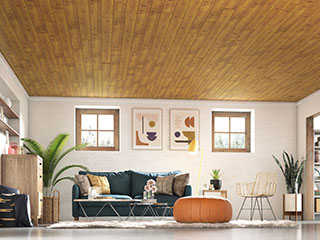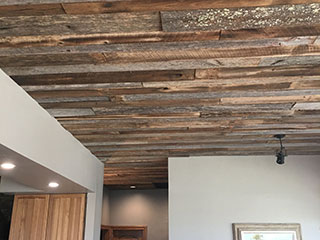 These are just a few of the simple solutions to consider when choosing how to finish the ceiling during your basement remodeling project. For your basement remodeling Des Moines, the experts at Remodeling Contractors are ready to provide even more ideas and concepts that could fit your needs and match your dream design. They can provide advice on everything from designing the layout of a newly finished basement to how to maximize the space of a partially finished basement. Their knowledge spans from best basement flooring, to organization ideas, and installing the best ceiling materials for your basement. Check out a few of the projects they have already completed here.