Hobbies
Jason enjoys spending the time with his wife Kim, and their 18 year old son and 15 year old daughter. His hobbies include woodworking, archery and anything involving the outdoors.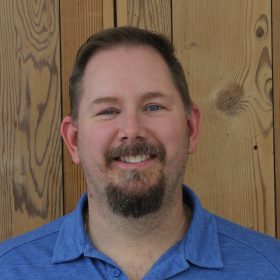 Jason Anderson
Growing up in Denison, Iowa, Jason Anderson had a love for math and science and always envisioned himself working with lasers. After high school he followed a girl out to the east coast, eventually settling down with her in Boston, MA. Luckily that girl had a connection at a remodeling company and encouraged him to apply to help support their soon to be growing family. When they decided to return to Iowa, Jason's wife insisted that they live in the city and they settled in Des Moines.
Today
Jason is the production manager here at Remodeling Contractors. His job is to coordinate the field employees schedules and materials to make sure the jobs are completed on time. His favorite part of the job is solving problems and he enjoys helping our customers' vision come to fruition.
Jason enjoys working here because of the company structure and systems. He is also friends with many of our team members, making Remodeling Contractors a natural fit.
Advice
If you do something knowing that you will have time to come back and fix it later, you most likely had the time to do it right the first time.