Hobbies
When away from work, Dave  spends most of his time with Lori, his wife of 25 years and his two grown sons. He enjoys being outside, camping, hiking the foothills of the Rocky Mountains, and playing yard games.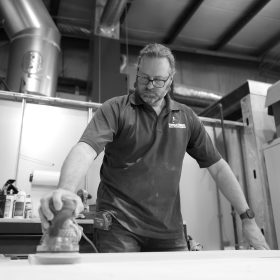 Dave Reed
Growing up in Johnston and Saydel. Dave spent much of his childhood outdoors hunting, fishing, cycling, and swimming. After graduating as class President of Saydel Highschool, Dave pursued an art degree from Grandview University. Although he didn't finish at Grandview, he has always considered himself a nonpracticing artist using his artistic "eye" and creativity to accomplish his goals as a woodworker. Dave considers himself a craftsman and enjoys building one off items.
Today
Dave enjoys working with clients and coworkers to bring their dreams or ideas to life. Bring that clipping from a magazine or pin from pintrest and he will turn it into something tactile and functional.
His favorite part about being a Remodeling Lead is the relationship that he builds with the homeowners. He is acutely aware that he's in their home and that we are disrupting their lives. He works hard to ease the clients' tensions by keeping the job site, which is their home, safe and clean and by communicating with them daily to make sure that they are comfortable.
Advice
Always do what's right, even when no one is looking.