Hobbies
Chris' first love is spending time with his daughter Chloe. He also enjoys attending concerts with his wife Anne and spending time with friends in tropical locations.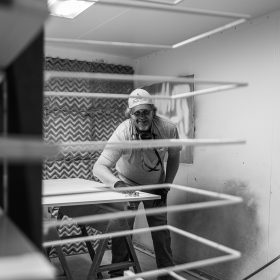 Chris McGrath
Chris grew up in Polk City with three sisters. After graduating from North Polk High School, he began his construction career working in new construction with a local painting contractor. After decade with working within that business, Chris entered into an Apprenticeship program and graduated in 2012. Since then he has focused on specializing in spray finishing on custom cabinetry for commercial and residential clients as well as applying protective coatings for industrial settings.
Today
Chris is the finisher for Remodeling Contractors' new cabinet shop. He is known for his eye for detail and desire to produce the best product possible for the client.
Advice
You must know where you're at before you can figure out where you're heading.