Hobbies
Brent is married with three kids. In his free time he loves hunt, fish and spend time reading the Bible.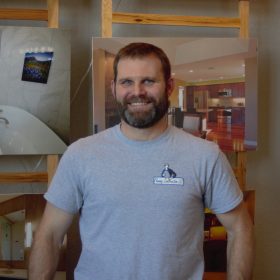 Brent Williams
From Cumberland, Iowa, Brent Williams thought he would grow up to be a banker. But construction ran in the family, and after working with his dad in the roofing business, Brent realized it would make a great career.
Today
Moving to Ankeny in 1995, Brent is now a project lead for Remodeling Contractors, managing projects from start to finish and specializing in carpentry. With the first priority being the customer's wants and needs, Brent believes what makes the team most unique is their grounded approach to customer service.
Advice
"To someone who is looking at going into the trades I would say go to school first, whether its trade school to get an associates degree, or something else. Also talk to people and find what interests you the most."